5 Tips for Keeping Your Dog's Coat Healthy During Winters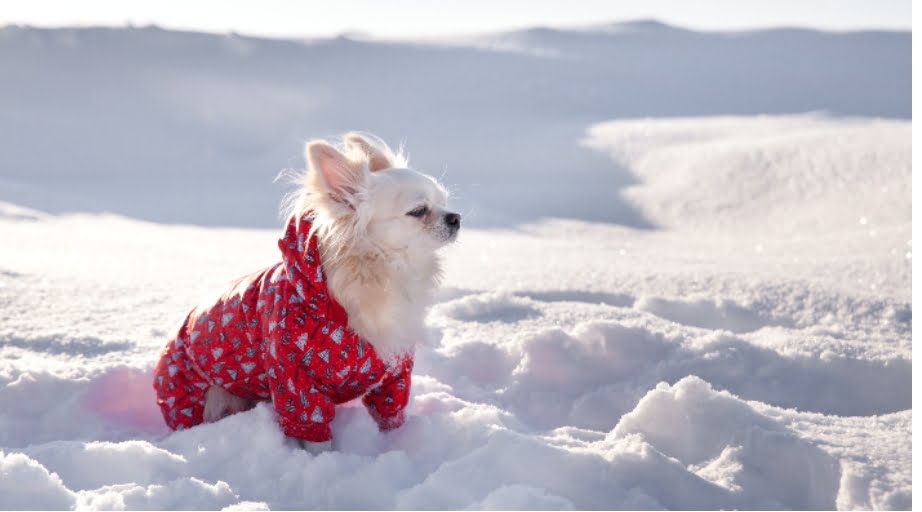 5 Tips for Keeping Your Dog's Coat Healthy During Winters can be access below:
The winter season is an enemy of healthy skin. The same goes for our four-legged friend. The lack of humidity and freezing air can wreak havoc on your dog's coat.
Uspetcares report that your dog will recurrently walk in and out to avoid the cold and in doing so, can badly harm the coat. This harsh weather can even cause skin implications to your furry friend. So it is crucial to adopt safety tips in winter to keep your dog's coat healthy and shiny.
Winter is no doubt a month to enjoy a warm bed while cuddling up your canine companion. That said, it also entails a lot of diseases, such as Seasonal Affective Disorder (SAD).
Winters are just around the corner and dog owners must embrace a precautionary attitude to ensure this season is not posing any health risk to your dog's coat.Below we have given some important vet-approved safety tips to follow this winter;
Limit The Frequency Of Baths
It goes without saying that winter is quite a harsh season for everyone, especially for the dogs who spend a big chunk of the day outdoors. There would be no harm if you limit the baths during these months and go for them only when it is extremely necessary.
Additionally, you don't have to lather up your dog with shampoo; a simple water bath can do the trick. The coat gets sensitive and dry in winter, so shampoo might feel irritating to your pooch. Shampoos and soaps rinse the natural oils away from your dog's skin making it dry and flaky.
Give a gentle bath to your pup using lukewarm water. Also, you must invest in a good moisturizing shampoo to use during the winter months to keep your dog's coat healthy and shiny. You can also try an oatmeal bath to get rid of dandruff.
Whether it is required or not, your dog should be provided with daily hair brushing to avoid mats and tangles. During winter, make sure your dog is getting the daily dose of brushing because it has an additional benefit- the release of natural oils.
Breeds having a dense double coat require brushing on daily basis. That's why owners of pug puppies get into trouble if they avoid brushing out these super-active little brats.
When you brush your furry friend's coat, it stimulates blood circulation which commands the hair roots to release natural oils. Also, it helps reduce shedding and gives your dog a healthy and moist coat throughout the winter season.
It is difficult for you to keep your dog indoors during the whole season. He may seek the outdoor air to relieve himself. Also, it is out of your domain to control the outdoor temperature.
You should use an air humidifier and fans to circulate the air in the indoor environment and the allergens are not sticking within the air or under the carpets.
For the safety of both your pet and your family, avoid using deodorants, cleaning products, and scents as these items can pose a hazard to sensitive skin.
Healthy Diet Is AMust-Have
A nutritious diet is always a secret to a healthy and shiny coat. When winters arrive, the necessity of a balanced diet gets manifold because the cold weather conditions can dry out your dog's skin leading to many skin ailments.
If your dog's skin is getting dry due to the weather, speak to your vet for a special diet or to prescribe some dietary supplements. Most importantly, provide your dog with plenty of water because dehydration can cause a disaster to an already dry-out skin.
Consult The Vet If Symptoms Appear
Winter weather is a well-known culprit of dry out skin but it is not always the case. There are other potential causes of skin ailments, such as parasites, hormonal imbalance, malnutrition, or any underlying health issue such as liver or kidney problems.
Keep a check on your dog's skin so that you can quickly notice if your dog is excessively scratching or developing any other kind of symptoms. Speak to your vet to know the actual cause of the skin, so that you can effectively deal with any serious health issue.
Don't Leave ThePet Outdoors
No matter how much your dog is barking to play outside, do not leave them outdoors in such harsh weather. You should take your dog out for a walk and exercise, but don't let them out for an extended period of time.
If you ask; what should be the right length for your dog's coat in winter? The simple answer is "as long as you can manage. Long-coated dogs mean they are warmer than short-coated dogs.
In areas where the temperature goes to the lowest, a long coat will keep your dog warm in such frigid weather. But bear in mind, long coats require a lot of maintenance. So adjust your dog's warmth according to the time and willingness to brush, wash, and regular maintenance.
In extreme weather, long hair will not be sufficient to stop the freezing wind from getting into your dog's body. So you need to dress up your pooch to avoid any unwanted incidents.
The jacket or sweater should be used to cover up the coat and used boots to protect the paws. Besides reducing your dog's exposure to rain and cold winds, they also help your dog the dirt and chemicals while he is interacting with other dogs. Above all, the jackets look really cute on your furry companion.
Embrace A Healthy Lifestyle
A healthy lifestyle keeps millions of health issues away. It isn't different for dogs at all. Regular walks, enough sleep, and sufficient water will go a long way to protect your dog during these harsh months.
Also, invest in a good comfy bed to regulate their body temperature and ensure a contented sleeping atmosphere. This is the least you can do for your life-long furry companion.
Conclusion
Your furry friend loves you unconditionally and provides you with countless happy moments. But the least they deserve is your care and attention.
Winter is a dangerous season; keep your dog warm and healthy by investing in an air humidifier, moisturizing dog shampoo, and a warm dog bed.
If you notice your dog is scratching or feeling uncomfortable, consult your vet to assess the underlying reason. Keep your dog hydrated to avoid drying out your dog's coat. We hope you and your furry friend will get through this frigid season smoothly.